Description
Video wall controller is a kind of pure hardware equipment specializing in image processing based on FPGA architecture, which can display multiple dynamic pictures on multiple screens and realize the function of multi window splicing roaming. This product has DVI, VGA, HDMI, SDI, YPbPr, CVBS and IP access capabilities. Each channel has a single point of 6G bandwidth. It uses built-in clock synchronization technology to ensure cross screen splicing to achieve pixel level accurate synchronization. Perfectly support various kinds of high-definition digital / analog video signals between the overlay, roaming, windowing and other complex video image processing. The product supports the splicing of narrow edge LCD, DLP, led and other display terminals, and can be widely used in the fields of command and monitoring conference of government, fire protection, public security, energy, transportation, power, military and other industries
Features
1. Flexible splicing roaming display:Support any input signal to cross-screen roaming across the wall, any window opening and scaling
2. Input OSD function:Input supports OSD superposition which could superimpose Chinese character for each signal, easy to manage resources
3. 7×24 hours of continuous work:Support 7×24 hours continuous work,Ability to adapt to increasingly stringent system performance requirements in control rooms, command centers, monitoring centers, etc.
4. Standardized chassis design:The equipment cabinet is designed in a standard 19-inch chassis that conforms to ANST/EIA RS-310-C/D. The installation process is simple and fixed
5. Redundant power hot backup: Equipped with dual power supply redundancy backup, power supply is automatically equalized, dual power supply can work at the same time, or can work alone; users can design two power supplies into main power supply and backup power supply according to need, connect to different power supply networks, once a certain power supply fails, the device will automatically enable another power supply to achieve uninterrupted operation of the device
6. High-speed backplane interconnection technology: Each channel has a unique 6G bandwidth, and the backplane uses a 6G high-speed switching chip to realize high-capacity high-speed signal exchange
7. Flexible board selection: The input board can be selected according to the source DVI, VGA, HDMI, SDI, YPbPR, CVBS in any combination
8.Built-in clock synchronization processing technology: All signals on the input and output bus are processed synchronously with a unified clock, and the switching operation operates in the black field gap to ensure fast switching and continuity of the output, achieving seamless switching effect
9. The main modules such as input capture card, output card, switch card, control card, fan, and power supply are all plug-in cards. The flexible board design brings great convenience for future upgrades and expansions, as well as the daily maintenance of the equipment. It is not necessary to disassemble the chassis when replacing the faulty component, just remove the faulty module and replace it
Key Functions
1. POP Picture Out Picture Mode: Multiple or part signals are displayed to full screen or part screen in any rectangle shape, single panel can create 2 or 4 video windows at mos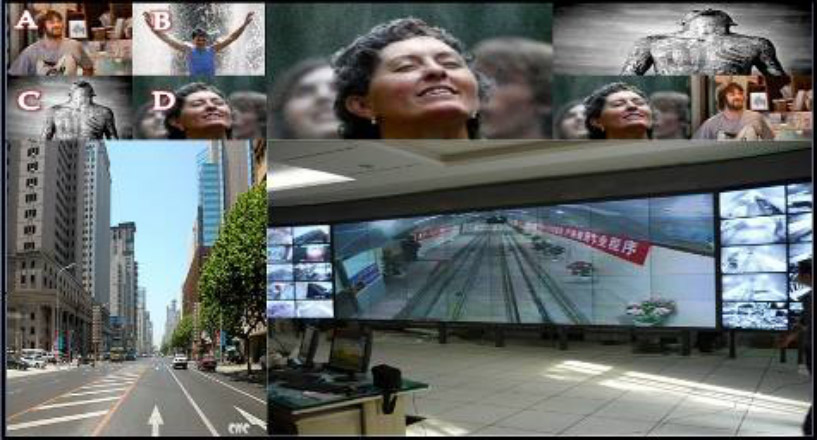 2.
PIP mode:
use certain one picture as background; the other video windows adopt tile mode.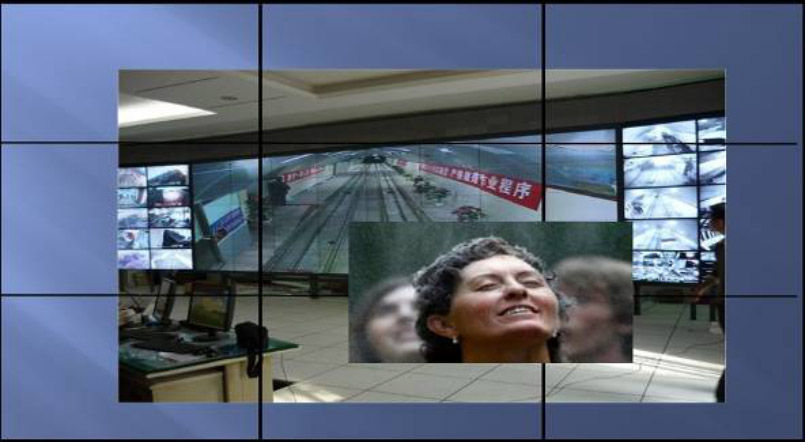 3. Overlapping mode: use certain one channel as background, the other channels are also displaying on the screen with the overlapping part invisible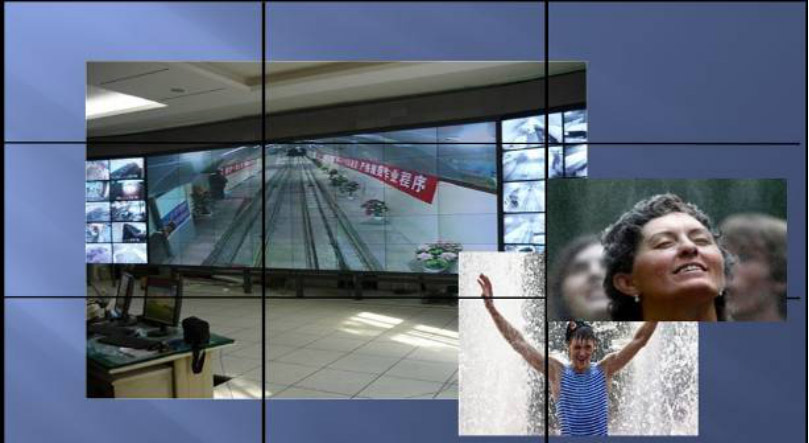 4.Scaling and Positioning: Size is scalable and position adjustable

5. Multi-screen management: One device can realize the simultaneous control of splicing screens with different output resolutions; the number of splicing screens with the same resolution is not limited; the signal sharing between each group of screens facilitates user management and reduces the cost of use

6. Character overlay: Use text or picture as the signal source identification to identify each signal source on the splicing screen. The icon can be set as text or picture, and the text font, size, color, background color and the scale of the logo can be customized


Software Operation Instruction
The splicing video wall controller software can be installed and run in Windows XP/win7/win8/win10 environment; realizes the function control operation of the splicing processor display mode, window display and window size, device configuration, scene call management, etc. All operations can be controlled in software
The software runs on the .NET Framework architecture. Since win7 and above system have their own .NET4.0 Framework, if the target installation computer system is win7 or above, you can install and run directly. If the target installation computer system is Windows XP, users are required. Download and install the .NET4.0 Framework system components yourself, and download and install the .NET 4.0 Framework system components in Microsoft website
Diagram