Description
Modular multi-format mixed hybrid seamless matrix router switcher is a high performance video signal switching equipment. It supports up to 8~80 inputs, 8~80 outputs with many kinds of daughter cards. This product supports multiple video formats input and output.
Multi-format matrix using the daughter cards structure, flexible and convenient installation. The input/output port support: Fiber, HDbaseT, SDI, HDMI, VGA, DVI-U(HDMI/DVI/VGA/YPbPr/CVBS).
With the Ethernet/LAN and RS232 communication interface, through the PC software to control the matrix signal switching, monitoring the working status of the matrix, set the signal resolution, etc..
Features
Support video wall function
Support Seamless switching, 2K input and output cards support OSD memu
Support up to 8~80 inputs and 8~80 outputs
Input/Output port: Fiber, HDbaseT, 3G-SDI, HDMI, DVI-U(HDMI/DVI/VGA/YPbPr/CVBS)
Maximum resolution of 1920 x 1080@60Hz (2K cards); 3840x2160@60Hz(4K cards)
Control interface: RS232,Web-based Ethernet/LAN
PC software to facilitate remote control, real-time display the input and output status
Scalar inside, output resolution control available
Redundant power supply
Character overlay function: Font / color / size control available
Specification
2K Seamless Cards
Input

Interface type

Signal

Format




DVI-U

HDMI

DVI

VGA

YPbPr

CVBS

HDMI / DVI / VGA:

800x600,1024x768,1280x768,1280x800,1280x1024,1360x768,

1400x1050,1600x1200,1920x1080

YPbPr: 576i50,720p50,720p60,1080i50,1080i60, 1080p50,1080p60

CVBS: PAL, NTSC




HDMI

HDMI

Same as DVI-U (HDMI input)




VGA

VGA

Same as DVI-U (VGA input)




BNC

SDI

480i60,576i50,1080i60,1080i50,720p60,720p50,1080p24/25/30/50/60




RJ45

HDbaseT

Same as DVI-U (HDMI input)




LC

Fiber

Single mode single Fiber, 1920x1080, up to 1.4Km or 20Km

Output

Interface type

Signal

Format




DVI-U

HDMI

DVI

VGA

YPbPr

CVBS

HDMI / DVI / VGA:

1024x768, 1280x1024, 1360x768, 1280x720, 1600x1200 ,1680x1050, 1920x1080

YPbPr: 1080p60, 720p60

CVBS: PAL, NTSC




HDMI

HDMI

Same as DVI-U (HDMI output)




VGA

VGA

Same as DVI-U (VGA output)




BNC

SDI

576i50,480i59,720p50,720p60,1080i50,1080i59,1080i60,1080p24/25/29/30/50/60




RJ45

HDbaseT

Same as DVI-U (HDMI output)




LC

Fiber

Single mode single Fiber, 1920x1080, up to 1.4Km or 20Km
4K Seamless Cards( 4K Cards not support OSD)
| | | | |
| --- | --- | --- | --- |
| Input | Interface type | Signal | Format |
| | HDMI | HDMI | Up to HDMI 2.0 4K 444@60Hz |
| | RJ45 | HDbaseT | 4K@60Hz, works with HDbaseT seamless transmitter box. |
| | LC | Fiber | 4K@60Hz, works with Fiber seamless transmitter box. |
| Output | Interface type | Signal | Format |
| | HDMI | HDMI | Up to HDMI 2.0 4K 444@60Hz |
| | RJ45 | HDbaseT | 4K@60Hz, works with HDbaseT seamless receiver box. |
| | LC | Fiber | 4K@60Hz, works with Fiber seamless receiver box. |
Cards for reference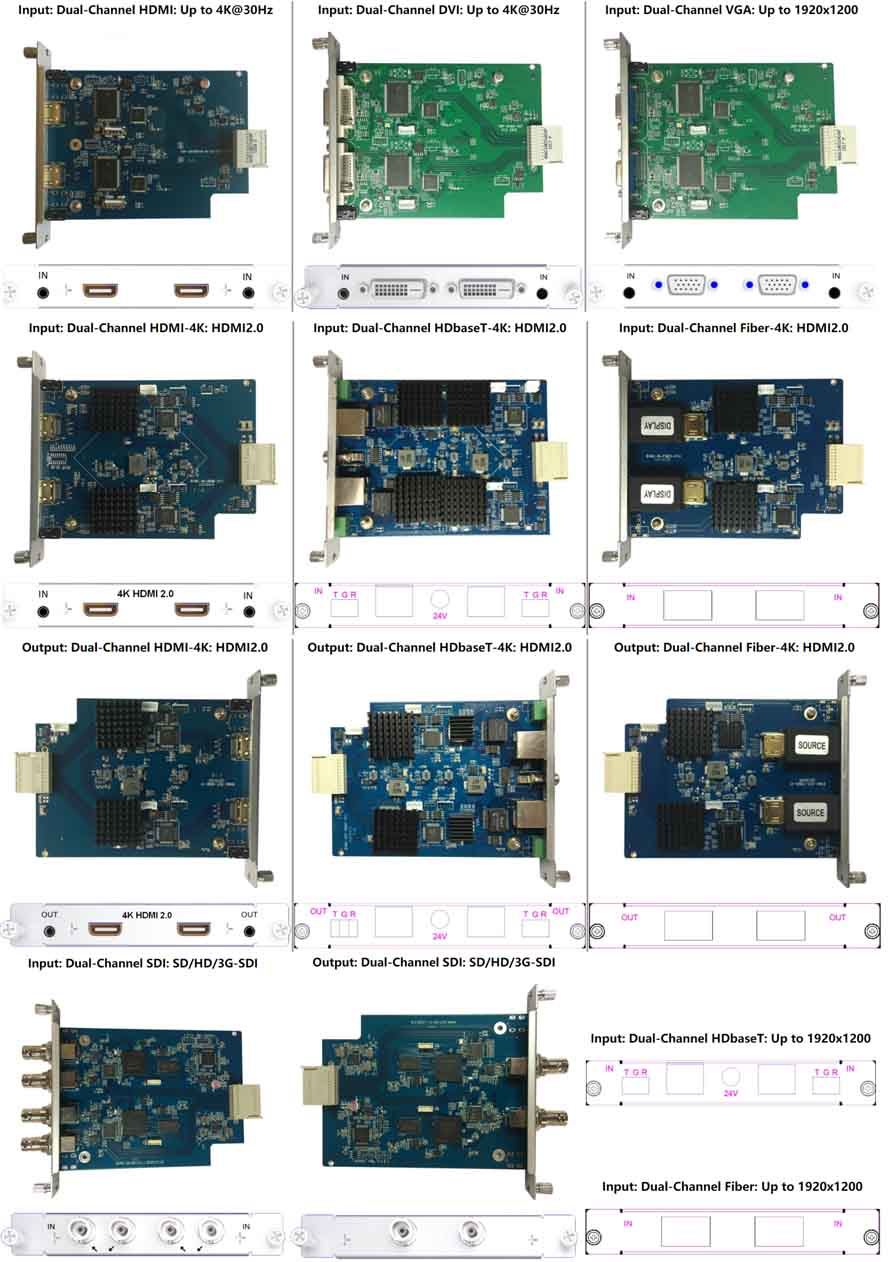 Diagram