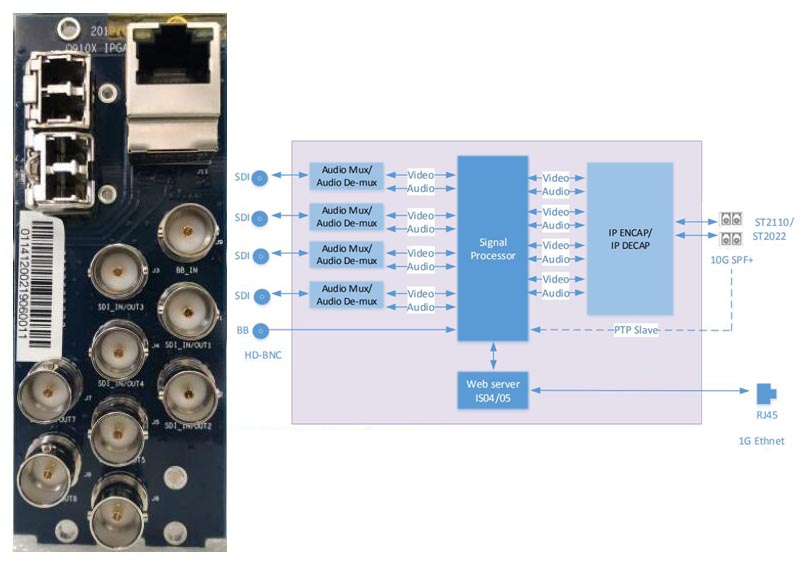 SMPTE ST 2110 and SMPTE ST 2022 are both SDI over IP technology.
ST 2022 is kind of the previous generation technology of ST2110, and ST2110 is more advanced technology to make up for the shortage of ST2022 standard.
The main difference between two SDI over IP solution is that ST 2022 simply encapsulates the SDI video part, audio part and data part into one same IP packet, while ST 2110 makes the SDI video, audio and data parts encapsulated in three different IP packets for transmission.
In a pure-blooded ST2022 system, the main transmission chain alwasy carry the compressed data stream in some way (such as the TICO method) and loaded with SDI signals. For IP streams, when a device needs to process video/audio/ancillary data separately, it needs to de-embed the stream, and then embed it back after processing.
In a pure SMPTE2110 system, there are three streams running on the main transmission way. Video, audio, and auxiliary data streams are transmitted separately, eliminating the troubles for embedding/de-embedding just mentioned above. Moreover, such transmission is not only to make system more possibility, but also to request a higher requirement for synchronization.It is more difficult to synchronize three different streams than a single stream in SMPTE2022, so SMPTE2110 uses the PTP protocol and RTP etc.
Different suppliers adapt new technology to make different channels of SDI signals over 10G bandwidth or 20G bandwidth. SDI technology for broadcast TV transmission keeps changing and moving forward all the time from SD-SDI to 12G-SDI standard. The magnificent vision world will become true from film in the near future.