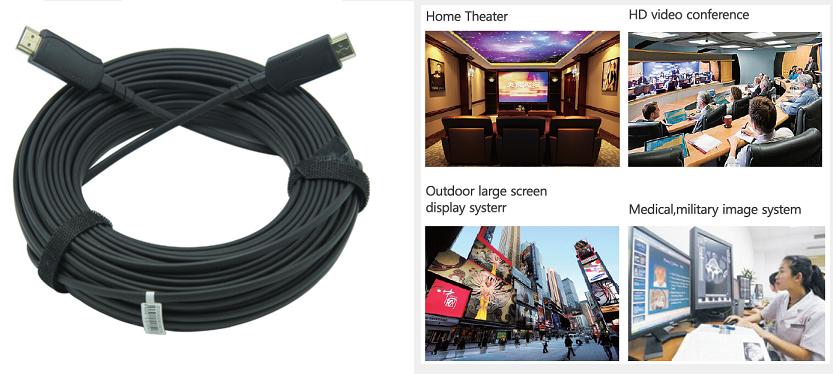 HDMI hybrid fiber optic cable is also called as HDMI AOC Cable and HDMI active optical cable.
The principle is to use optical fiber as a transmission material and the medium is an active optical cable. It is a type of hdmi high-definition cable that integrates photoelectric conversion
HDMI AOC cable has a transformation principle in the process of transmission. It is a process from electric to fiber, and then fiber to electric. This is a way to achieve zero impedance and no compression of the signal.
Therefore, HDMI AOC cable is a long transmission way with 4K HD resolution (4: 4: 4). During the transmission, the signal loss rate is basically zero. This is a technological breakthrough since fiber optic cable has excellent large bandwidth in data transmission.
The advantages are: long distance, 300 meters to achieve 4K HD, easy to use, no delay, no signal loss, strong stability, no electromagnetic interference combination. It also could save the cost within 300meter transmission compared with HDMI fiber optic extender.
HDMI hybrid fiber cable is suitable for engineering use. It solves the problem of short transmission distance compared with original normal HDMI cable. In addition, it does not need external power supply. It is also easier for cabling.
The most commonly used version of HDMI fiber optic cable is version 2.0, which is compatible with version 1.4 and is suitable for most machines and equipments. Version 2.0 perfectly meets 4K / 60HZ, and version 1.4 is 4K / 40HZ. The 1.3 version is 1080p. Now 8K resolution of HDMI AOC cable is also coming.