Be straight, AV stands for audio and video which are the basic elements that consist of TV, movies, videos, and so on.
Basically, what we see and hear in our lives can be called AV. In the traditional AV architecture, most of them are transmitted through cables, but by increasing the transmission distance and replacement requirements, the traditional AV architecture can no longer meet its needs.
The technology of AV over IP uses internet protocol to finish audio and video transmission which solves this problem. AV over IP system makes up of Encoder, decoder and switch.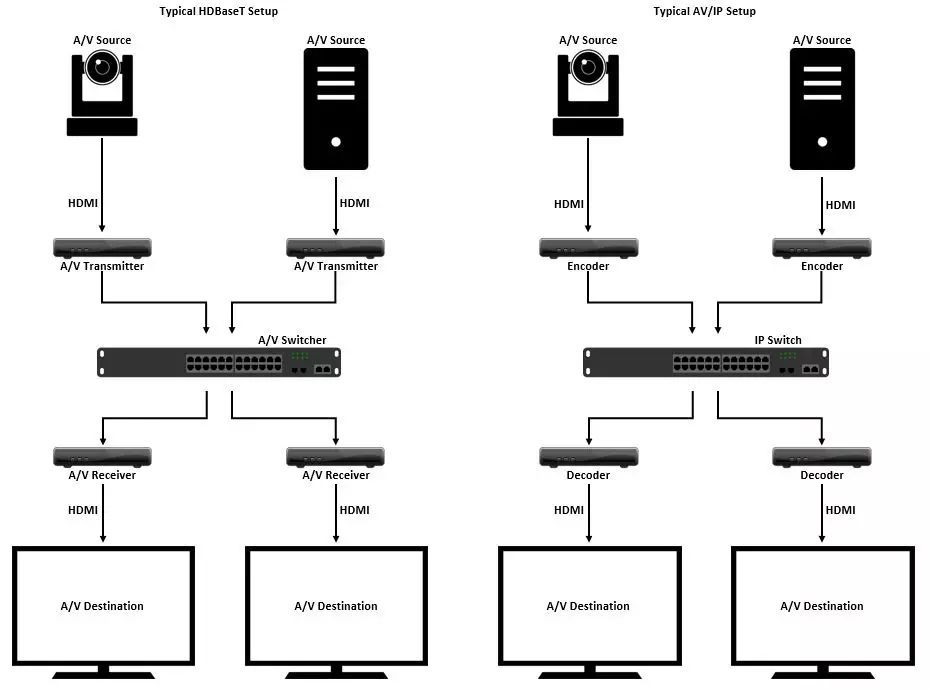 Of course, there are ways to achieve, but SMPTE2110 from broadcast field and SDVoE from ProAV field are the popular solutions recently. Both solutions have high conversion efficiency in encoding SDI/HDMI to IP without compression technology. SDI/HDMI transmission has no delay.
SMPTE2110 and SDVoE are similar with several difference.
SMPTE 2110
The SMPTE 2110 mainly converts SDI signal to IP, and simultaneously distinguishes audio, video, and data signals into three types of IP data streams. Through such technical processing, these three signals can be processed separately in transmission.
Because the separation and recombination of the three signals require high-precision synchronization, the SMPTE 2110 also needs to use the PTP protocol to calibrate the clock, and all participating switches in the network should also support the PTP function to ensure synchronous conversion of audio and video.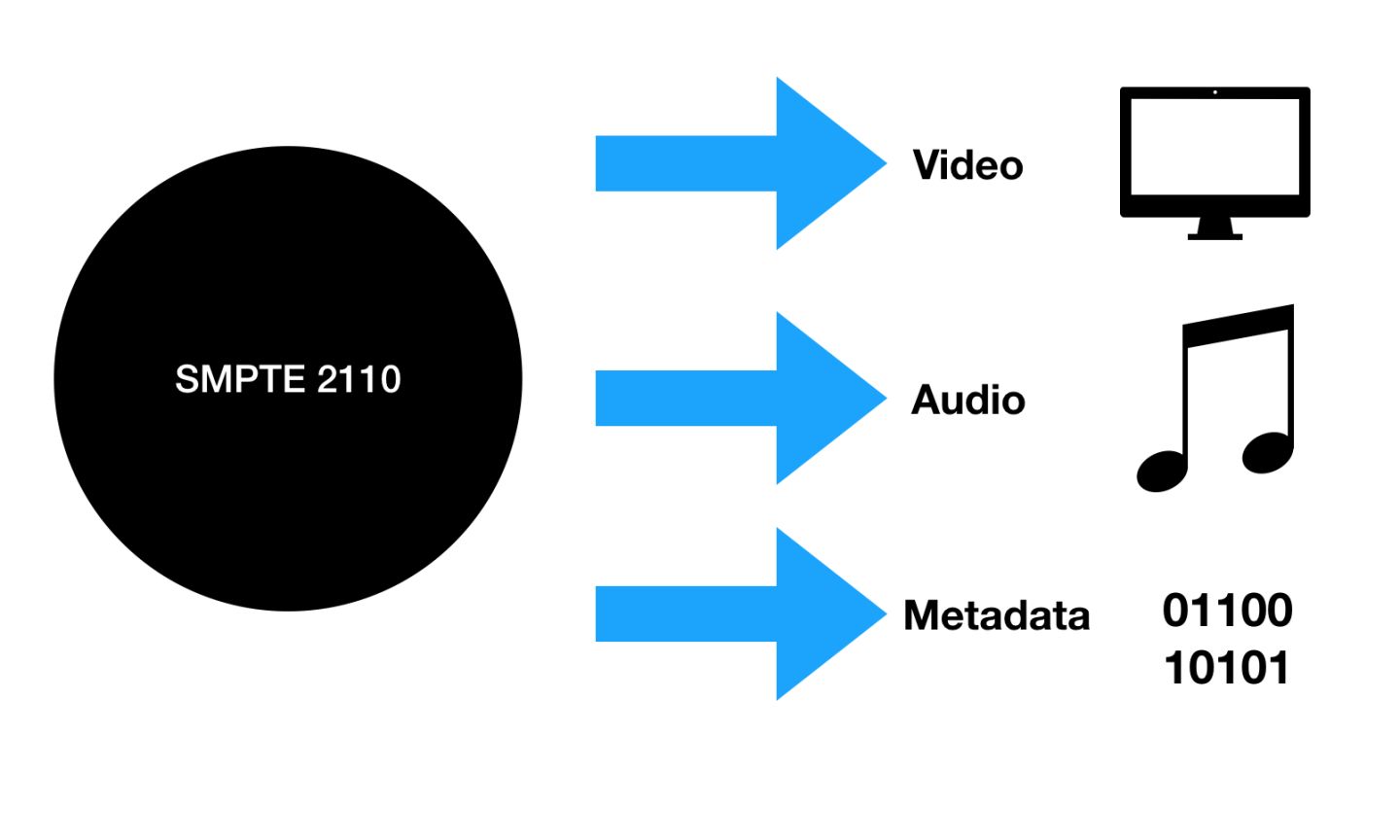 SMPTE 2110 is mainly used to solve the functions of IP-based transmission and synchronization of three signals. It exists more in radio and television transmission applications. Therefore, it does not support USB, IR, RS-232 and other data and control functions.
In addition, due to the strong professional attributes of radio and television, more professional equipment is used to form the SMPTE network with large cost.
SDVoE
SDVoE mainly converts HDMI KVM signals to IP networks (10G) with zero delay and no compression. Due to the characteristics of HDMI signal, SDVoE solution includes audio, video, and data at the same time. It does not separate them into three data streams, but merges them into one.
Compared with the higher professionalism of SMPTE 2110, SDVoE provides 4 basic working modes for users
1.Genlocking Mode
Enabling the calibration clock of the encoder and decoder ensures absolute zero latency transmission. For Special applications, such as medical operation live and oter live video broadcasts, can be based on this mode to ensure video delay and synchronization.
2.Fast Switching
When switching between multiple video sources, this mode guarantees fast switching, zero frame loss (no black screen). It is especially suitable for scenarios that require frequent switching, such as command centers and live broadcast
3.Video Wall Mode
Used for splicing multiple pictures into a large video wall, widely used in various LCD / LED video wall. Today, with the rapid advancement of projection technology, it is also often used in the construction of 4D theaters, such as sky screens, domes, and ball screens, to stitch the projection effects of multiple projectors.
4.Multi-View Mode
It is suitable for cutting a large picture into several small pictures. It is also suitable for video windowing and picture-in-picture with software control. This function has played a great role in various live programs.

The combination of SMPTE 2110 and SDI is undoubtedly the most suitable solution in the field of television and other professional broadcasting applications.
SDVoE is more suitable for commercial environments where scenes are placed, such as stadiums, concerts, and command center. The way of having an API interface can bring more imaginations